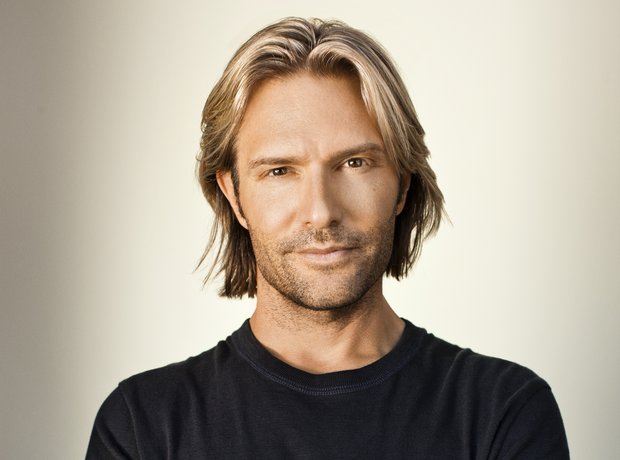 Eric Whitacre
When I woke up this morning it was raining outside and I had a few songs running through my head. Because of those songs, I decided that today I want to share with all of you something that I love very much: the music of Eric Whitacre. Specifically, his virtual choir projects.
First, a little bit about the man, himself. Eric is a music composer who writes a variety of different styles, but he is most notably known for his classical pieces and choral arrangements. He has a choir simply named The Eric Whitacre Singers who travel the globe and sing in concerts as well as hold workshops with other singers. If you haven't heard any of his works before now, I highly suggest listening to a few of his albums. They are amazing and can be both relaxing and very exciting.
The Virtual Choir has become one of Eric's most notable projects. It all began with this video:
After watching this video, Eric had a vision of people from all over the world making videos like this one, sending them to him, and then he could put them all together to make a virtual choir. No one would have to be left out because of their location or inability to travel because you could just record yourself singing from you own home. After talking to some people about how to go about the technical side of the choir, he posted an announcement on his website about how to audition. He included the written music for one of his composed pieces and a video of himself directing the music. From there people could practice and then record themselves while watching him conduct to them so that they were all singing in the same time. Once all of the videos had been received, he and his technical crew worked to compile everything into one video that both sounded great and looked great while showing everyone that was singing. The final result came on March 21, 2010: 185 voices from 12 different countries singing 'Lux Aurumque' and it was absolutely beautiful.
As of today that video has almost 4 million views. It was such a success that Eric decided to do the whole thing again with the song 'Sleep'. Virtual Choir 2.0 came almost exactly one year later, being released on April 6, 2011. This time, things had taken off so well that it included 1,752 singers from 58 different countries and an ingenious way of showing them all to the world.
Then again, a few days shy of one year later, Virtual Choir 3 debuted on April 2, 2012. This time things had grown so much that it was a major undertaking. 3,746 videos from 73 different countries had been sent in. With a lot of work and organization, the performance of 'Water Night' was a huge success.









That is when things got tough. The production had taken so much time and effort that taking on another Virtual Choir would be incredibly difficult. This time, before asking for videos, Eric asked for help. He started a Kickstarter campaign in December of 2012 to be able to fund the newest Virtual Choir. In one month's time he raised $122,555 of his requested $100,000 to be able to make the greatest video so far.

Before debuting the fourth video, he did something that amazed me even further. On March 22, 2013, he gave a talk and performance at TED. What was so amazing with this was that he had brought a live choir from a few different colleges in California, as well as a few Virtual Choir Alumni through Skype and they performed together live. This had never been done before and was incredible to watch. Linking that video through TED's site is difficult so if you want to see it, search Google for it and enjoy. I highly recommend it.


Finally, on July 11, 2013, Virtual Choir 4 premiered. 5,905 singers from 101 countries across the globe joined in to sing 'Fly to Paradise'. And to make it even more special for Eric, he was on hand to debut it as part of the Coronation Festival Gala at Buckingham Palace, and yes, Her Majesty was in attendance.







I hope you have enjoyed this small walk into one of the many things that I love so much. Please feel free to comment and let me know what you thought of the music and visuals that you saw. I look forward to hearing what you have to say.
'Til next time.
Llama Llama